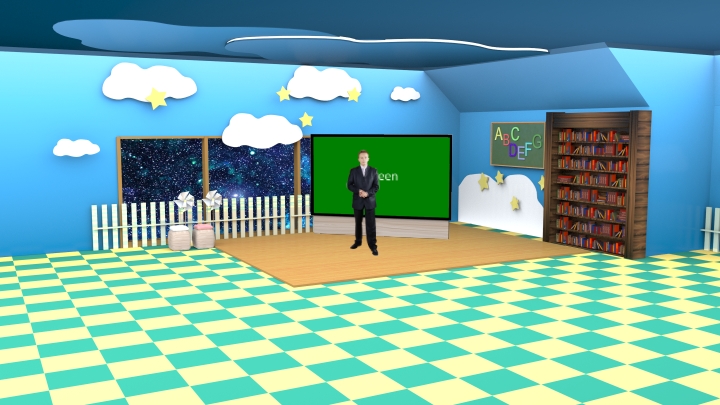 Happy Learning and Colorful Design of Education Virtual Set Studio
Blue wall decorated with the painting of clouds and stars. There are bookcase and English letters. The colorful design of virtual set is suitable for education, entertainment, Children's television series or other type of programs.
We provide 14 different angles virtual set for your need. 
We provide many kinds of virtual set formats that include:
1. TVS-1000/1200 Free Formats (6 angels only)
2. TVS -1000/1200- 2880x1620
3. HD 1 - 1280x720(.png)
4. HD 2 - 1920x1080(.png)
5. UHD - 4096x2160(.png)
6. PSD - 4096x2160(.psd)Up to 7-9 layers
7. 3Ds Max (.max) Render by V-Ray.
All format /file includes 14 angles for your need.
#clouds #stars #bookcase #English #letters #colorful #education #entertainment #children #kids #tvprogram #programs #studio #virtualset